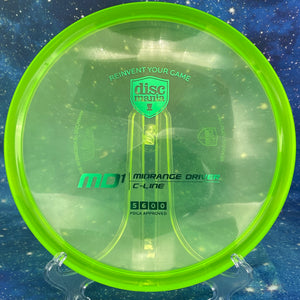 C-Line MD1 - Flight Numbers: 5 | 6 | 0 | 0
MD1 was an immediate success when it was first re-introduced in 2021 Winter Mystery Boxes and fans have eagerly awaited its return ever since. The smooth convex profile of the nose and wing of the disc will fit in-hand naturally, providing a very clean release on each and every throw.

What do you do when you're looking down the gauntlet? A dead straight fairway with trees on the left, trees on the right. Throwing straight is arguably the hardest shot in disc golf. It's about to get easier with the laser-straight midrange, the MD1!