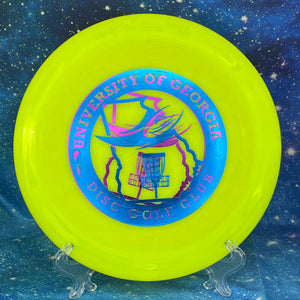 Pre-Owned - Prodigy - X2 (400, 750)
Gravity buys and sells lightly used discs. All weights are scaled. Please see the condition scale on each product that indicates its severity of use. Disc Condition is conservative.
Examples:
10/10 - New and Never Thrown
9/10 - Field Tested or Minor Storage Wear
8/10 - Slightly Used with very little scrapes or gouges
7/10 - Moderate scrapes or dings, no major damage, shape is unchanged
6/10 - Possible gash or warp or major road rash, dings, or scraping
5/10 - Highly used with many altering scrapes, warp, or gouges
Just what I was looking for!
Since Prodigy no longer makes the 400g lightweight line, I have had a hard time finding a specific disc in that plastic. Gravity had the exact disc in that plastic, weight, and color I had been searching for! They also had a few others I'm keeping my eye on for spares. The disc was in perfect condition, shipped quickly and securely.