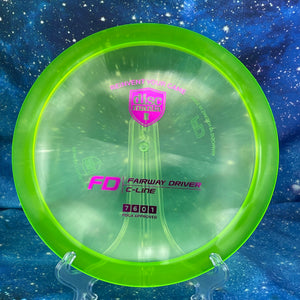 C-Line FD - Flight Numbers:  7 | 6 | 0 | 1
The Discmania FD (Fairway Driver) is a very controllable low-speed driver - a tool everyone needs in their bag. Once you learn its magic, you'll never take it out of your bag. Packed with gigantic glide, this bad boy is also sneaky long if thrown accordingly. The FD is at its best when you need to make an accurate drive and land smoothly on the fairway.

Better then I expected
Disc flies very neutral. Doesn't flip on me and has a consistent fade.
Great Disc, Fast Shipping
I was surprised to just find a brand new c line fd. It came packaged perfectly, in great condition and very fast. I couldn't ask for more.
Good Ole Trusty FD
Love the FD, always have. Super hard to find but Gravity Discs had it! Thank you guys!
Flight Numbers
I know the flight numbers are never accurate and don't fully reflect the actual flight path of the disc. After looking at the flight numbers, I thought it'd be stable. After several throws, that disc acts more like the new discmania tilt. I guess I have a utility disc now.