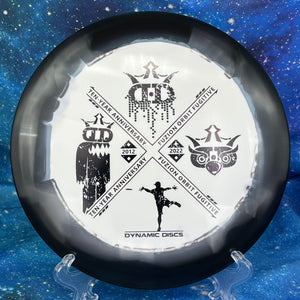 Dynamic Discs - Fugitive - Fuzion Orbit - 10 Year Anniversary Stamp
Fuzion Orbit Fugitive - Flight Numbers:  5 | 5 | -0.5 | 1.5
The Fugitive is the straight-flying midrange that holds any line you put it on. The Fugitive allows players to throw pin point accurate shots. The Fugitive is ideal for slower arm speeds that need straight shots without compromising form.
About Fuzion:
Fuzion combines the durability of Lucid with an advanced polymer to form a non-transparent blend of plastic. This plastic also provides players with additional grip.

About Orbit:
Orbit is our spectacular two-color process that opens up a whole new world of color combinations.